Welcome to Thai Brides. On this site you'll find loads of useful information about visiting and living in Thailand as well as meeting and dating ladyboys.
If you want to chat to ladyboys online then I highly recommend MyLadyboyDate. It's run by a friend of mine who has a super hot ladyboy girlfriend. Last time I looked there were 14,000 ladyboys with profiles on the site. Sign up and check them out!

Got any questions about Thailand or ladyboy dating? Leave a comment below and I'll do my best to answer you.
Thailand is well know for its ladyboys. What's generally less well known is that you can actually date ladyboys on a long term basis.
So what's involved with finding a ladyboy girlfriend, and what are the key issues involved?
Finding Ladyboys Online
Asian ladyboys are pretty easy to find online.
Contrary to what you might think, there are actually more Filipino ladyboys online than there are Thai ladyboys.
Which country's transsexuals most interest you is your decision. However, don't discount the Philippines! Philippines cities like Angeles City (near Manila) and Cebu can offer much the same nightlife as you can find in Bangkok or Pattaya.
One good thing about the Philippines is that it's getting much easier to get a long term visa to live there. By contrast Thailand is going the other way. Thai retirement visas are getting harder to obtain as you need more money than ever in an Thai bank account. Plus you still got to do 90 day reporting at the government offices. When I lived in Thailand this was a pain in the ass. The government complex at Chaeng Watthana is really far from Central Bangkok. I had to get there by going to the end of the line of the BTS overground train, then getting a taxi to the government offices. I also had to set out super early, as it's operated on a first come first served basis. I also had to wander around like an idiot while all the officials had their lunch hour.
So please give the Philippines a look!
There are smaller numbers of Asian ladyboys in other countries like Japan, South Korea, Cambodia and Laos. In the case of Cambodia and Laos, a lot of the ladyboys in these countries go to Thailand for work. I used to regularly drink in a bar on Sukhumvit that was run by cute Cambodian tgirls. I had some memorable nights there. And I did meet a Laotian tgirl in another bar. She was incredibly cute but I believe she was on drugs or something as she was totally crazy. I actually found her profile on Thai Cupid. But when I sent her a message she denied all knowledge of the evening in question.
Anyway, whether you go for Thai or Filipino ladyboys, you'll find both on most of the popular Asian dating websites.
The snag is that most sites don't allow you to specifically search for ladyboys. Consequently, on a site like Thai Love Links you're never sure if you should search for ladyboys by specifying that you want to search for men or women. Much the same problem happens on DateInAsia.
So really it's better to use sites that specifically allow you to search for ladyboys. Sites that allow you to do this are:
Thai Kisses
Thai Friendly
Which site is best?
If you like Thai ladyboys and Thai women, then join Thai Kisses. For Filipino girls as well as ladyboys then join Filipino Kisses.
If you're exclusively into ladyboys, then it makes sense to join Ladyboy Kisses or My Ladyboy Date. Ladyboy Kisses and My Ladyboy Date are pay sites though. Thai Friendly is supposedly "free", but to get any good use out of it you really need a paid subscription. Personally I found it was useless when using it in freemium mode. I spent 16 days in Bangkok but didn't get a single real life date through using Thai Friendly. I would have taken out a subscription, but it's pretty expensive. It costs roughly the same as Thai Cupid.
MyTransSexualDate is the sister site of My Ladyboy Date. It's a good one to try if you're interested in tgirls who don't necessarily live in Asia. For example, you can find tgirls in the USA, Western Europe, Russia and most countries you can think of. Maybe it's also worth a go if you're going on vacation to Latin America or somewhere else and want to find a tgirl to hookup with.
So that covers dating sites. Is it worthwhile using smartphone apps?
Not really.
I had quite a bit of success meeting random hookups using WeChat and Skout. However, the former is now really full of hookers and people selling you stuff. I actually live in China right now and WeChat ought to be smoking hot for hookups here. But it's rubbish.
As for Tinder and its rivals, none of them are really transgender friendly so it's not that easy to find tgirls on them. Plus these apps are a gigantic waste of time unless you're Chad Bigcock. All you're there for is to give ladies affirmation of their value in the dating marketplace. Hell a lot of the ladies on these apps aren't even single.
So I'll recommend dating sites over apps any day of the week. The good news is that dating sites like MyLadyboyDate are fully mobile friendly and work well on an iPad or even a smartphone.
Ladyboy Scams and Scammers
Online dating is hazardous at the best of times. I've been a long time member of some of the most popular Asian dating websites. I've encountered plenty of scammers, gold diggers and other undesirables.
Day after day I hear of people losing money in romance scams. Even one of the Asian women I dated got scammed – in her case by a Nigerian romance scammer.
So please heed the warning of this guy who posted this comment about the Ladyboy Kisses dating site:
A Word of caution here guys. I have tried ladyboykisses and i am serious doubting that there are honest ladyboys there.

I have met a lot scammers there… I have decided to drop my search. I guess the only way you can find a honest Ladyboy is to go to Thailand and live there.

…When my subscription run out i will not renew it. I have totally dumped the idea to find a Ladyboy on a dating site.. it aint gonna happen.
So online ladyboy dating is not without hazards! In all honesty, if you want a ladyboy girlfriend then it's better to move to Thailand or the Philippines and live out your dreams there.
However, if you just want to contact ladyboys for fun chat sessions, then by all means use the dating sites listed above. Just don't expect too much in the way of an exclusive, long term relationship with a ladyboy you meet on these sites.
Real Life Ladyboy Hazards
Dating ladyboys in real life is not without troubles either.
But for me the biggest problem I had dating ladyboys when I lived in Thailand was actually getting them to come on dates. I had problems with one who had bad skin and who wouldn't come and meet me till it cleared up. Never mind that I have a thing for acne lol. A few others worked really long hours and didn't live that close to me so we could never schedule a date.
My one and only date with a genuine Thai ladyboy went really well. Actually we had a couple of dates. But she was quite shy and unusually for a ladyboy didn't speak much English. Seeing her turn up for our first date in her university uniform of white blouse and short pleated skirt was still one of the highlights of my life.
Away from ladyboy dating, I did see some crazy tgirl shit in Pattaya. On Beach Road I saw some Russians talking to a tall amazonian type of tgirl. Actually it was a Russian guy with his parents. So the guy was insulting the tgirl (in Russian) and his family were laughing. The next thing I know the ladyboy is kicking the shit out of the guy in front of his parents. It seemed the tgirl was pretty good at understanding the Russian language. Which isn't that uncommon in Pattaya given how many Russians have second homes there.
I also went drinking in a Bangkok bar and one of the regulars there had a stunning ladyboy girlfriend. She was stunning but a total nightmare. Apparently she had hospitalised her man by throwing pool balls at his head! Well they were still madly in love despite her flaws.
I once had a ladyboy massage in Nana. I really liked the ladyboy I got the massage from. She was petite (unusual in Thai ladyboys) and VERY cute. However she turned out to have a bit of a toxic personality. During the massage I got into a fairly tricky conversation about whether or not I wanted a long term thing with a ladyboy. I guess they get disappointed by guys walking out on them that they end up not trusting any guys ever again. I can't fault her massage skills though and gave her a massive tip which allowed her to gain much face with her peers.
Actually of all the time I spent living in Thailand the biggest ladyboy related issue I had came not from a ladyboy but from a farang who himself claimed to have ladyboy issues.
One day I walked to my local supermarket in search of something to eat for lunch. A British farang approached me and started telling me a story about how a ladyboy stole all his money and could he….
Well I knew where this story was heading.
So I walked away and the guy followed me down the aisles throwing coins at me.
For some reason, or maybe no reason at all.
It turned out he did have money after all. And plenty of it, as he bought something to eat then left.
I also left and a month later went back to farangland. I love Thailand but it does tend to attract low quality people from my home country.
Ladyboy Dating Issues
If I haven't put you off, then this guide is an essential read if you're serious about finding a ladyboy girlfriend:
The author lives in the Philippines with his cute Filipino ladyboy, so he'll tell you exactly what's involved with dating these beautiful and exotic creatures. I met him in London once. We went for overpriced beers and talked about transgender dating issues. He's such a nice guy, and very knowledgeble as well.
It's well worth looking at this guide as hopefully you won't make as many stupid newbie mistakes as I did when I lived in Thailand.
Here's me asking a girl on Thai Cupid if she's a ladyboy: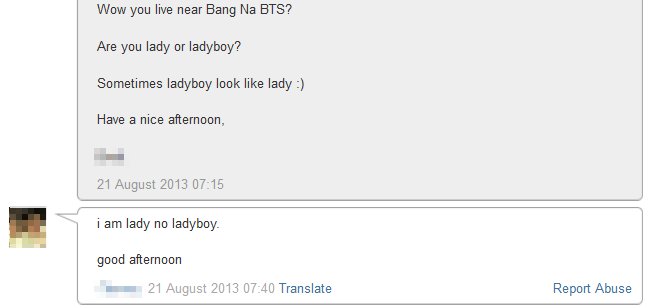 And here's a weird one – a lady who only dates ladyboys: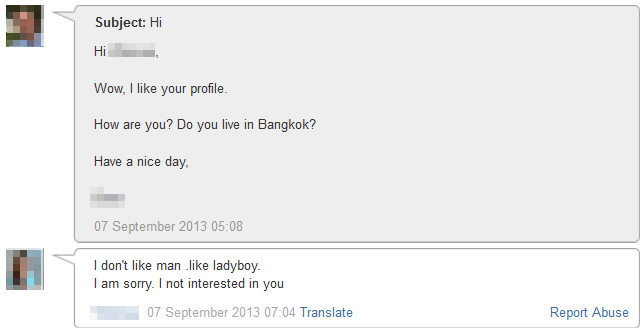 A putdown I've never seen before or since, but good luck to her anyway.
If you've got any comments, questions or suggestions about Thai ladyboy dating, then leave your thoughts below (anonymously if you wish).