Welcome to Thai Brides. On this site you'll find loads of useful information about visiting and living in Thailand as well as meeting and dating Thai girls.
If you want to find a Thai bride then I highly recommend Thai Cupid. I averaged one date a week while I was using it when I lived in Bangkok. Sign up and check them out!

Got any questions about Thailand or Thai dating? Leave a comment below and I'll do my best to answer you.
There are two great things about Thailand:
It's packed full of beautiful women,
It's a great retirement option.
Here at ThaiBride.Net there's plenty of information about finding a Thai bride. Or maybe you already have a Thai bride, but you think retiring to her country is a good option for you.
Here's what I know about retiring to Thailand. While I'm not retired myself, I am actively considering living in Asia for a few years. So I've had to look into the issues involved.
Do You Actually Like Thailand?
First of all I'll say that it's a little crazy to consider living in a country you've never visited before. So before you make life changing decisions, take a holiday to Thailand and spend as long as you can out there.
It may be obvious, but I'll point out that Thailand gets tremendously hot, especially during the Summer. Make sure you can stand the heat and humidity.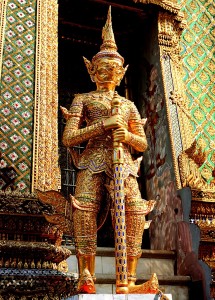 When I lived in Thailand it topped out at 39°C during the afternoon. That was a particularly hot year but it was just on the verge of being unbearable. On the other hand the weather was pretty sweet. Although it rained a lot it tended to all come down in a 10-20 minute thunderstorm. Compare that with when I lived near to Shanghai in China. I went two whole months where it practically rained all day, every day. There were only two sunny days in that entire time!
Thailand is also quite a large country, and it's a good idea to do some thinking about which part of the country would suit you best.
Bangkok is popular, but the noise and chaos is too much for many people, especially if you're wanting to retire and take things easy. Pattaya and other coastal resorts are wildly popular. You will however find that your money goes further in the less touristy locations. Check out this map for less popular areas that still have plenty of ladies for you to meet.
Chiang Mai and Northern Thailand is increasingly popular with Western expats. The cost of living is fairly low, and there's a more relaxed lifestyle. Personally I reckon the other big advantage here is that the women of Chiang Mai are the most beautiful in all of Thailand.
You'll also have a better experience in Thailand if you like Thai food. I guess this isn't essential though. My uncle lives in Thailand yet I've never seen him eat Asian food back in the UK. God knows what he eats out there, but he claims he spends very little on food while he's there.
Costs
You'll get very little support from the Thai government if you're retired and living in Thailand, so make sure you can support yourself financially.
This means working out the value of your pension and other income, and balancing that against expenses.
Major expenses you'll need to consider are rent, food and entertainment, some sort of health insurance and flights back home (if you want to return home on occasion).
One major problem with developing countries is that the rate of inflation can be quite high, and their currencies are steadily appreciating against major currencies like the US dollar and Pound sterling.
To take the US dollar as an example, in 2002 you could get 43 Thai Baht for one dollar. In 2012 you could only get 30. So an American citizen is 30% worse off in Thailand after 10 years, and that's before you take into account the rising cost of goods and services priced in Baht.
I found food was quite cheap in Thailand. However, beer and alcohol most certainly is not cheap. It's way cheaper in China where I've also lived. I believe it's cheaper in Vietnam and Cambodia too. The only place with more costly alcohol in SE Asia is in neighbouring Malaysia.
To make matters worse, many pensions aren't indexed linked to inflation. Consequently you'll find that your income will actually shrink over time. Before retiring to Thailand, check to see if your pension will actually rise in line with the cost of living.
Here's a much better breakdown of the costs of living in Thailand and finding a Thaibride.
Thai Ladies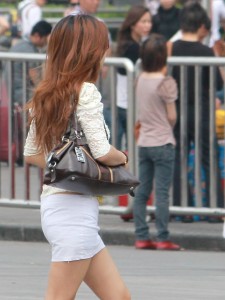 The good news is that if you're going to live in Thailand then you'll be pretty popular with Thai ladies! I personally found Thai dating to be a little disappointing. I found Southern China to be much better. Still I must have averaged about one date a week while I was living in Bangkok. That wasn't too bad for an overweight average dude.
If the truth be known, Thai women would much rather marry Western men and live in Thailand than become mail order brides and live in the USA, Canada, the UK or elsewhere.
It's pretty easy to find a much younger wife from Thailand, especially if you're living there. The great think about being a Thai expat is that you can knock around with a much younger girl and be much more certain that another Western guy won't come along and steal her off you.
And other advantages include the fact that you'll find it much easier to avoid the romance scammers on dating sites, especially all those Nigerian men pretending to be Thai women!
Part of the reason I felt I wasn't quite so popular on Thai dating sites like Thai Friendly and Thai Cupid was that because I was actually in Thailand, the numerous scammer girls weren't really that interested in me. Sure, I had a couple of freelancers/part time whores approach me and one university student wanted me to be her sugar daddy. But on the whole I got chatting to slightly better quality women than I would have been chatting to if I was back in farangland.
In fact, if you want to meet decent Thai women you're better off avoiding dating sites altogether and just seek some personal recommendations from all the Thai people you'll meet in Thailand.
For the best dating opportunities in Thailand stay away from well known places like Bangkok, Phuket and Pattaya. My map here shows many provinces where there are plenty of ladies to date, along with much lower costs of living and less nightmare farangs to deal with.
Don't Lose Your Mind!
I speak from personal experience here when I say that SE Asia's hot and humid climate can play tricks with your mind. So take things slowly, and be careful when making major decisions.
When you first arrive in Thailand, it's easy to get carried away with bar girls and the night life. That's a good way to burn through your life savings in no time at all.
You need to be disciplined!
Bar costs can very quickly escalate. I used to live as a digital nomad in Thailand and while I was doing that I had to be really careful with my money. I was less careful when I subsequently visited for some R n R during a break from my China teaching job. One night I went into a bar in Soi Cowboy and ended up spending something like 1350 Baht on beer for myself and cocktails for various ladies. Sure it was a fun night, but it can be addictive and ultimately very costly.
Another issue I found in Thailand is that it's just so easy to get into trouble. I like drinking beer and I had a couple of close shaves in bars. Actually most of the problems were with farangs, not the locals. I saw various other stuff. The roads are pretty dangerous and there were a few run off the road accident sites on the road to Pattaya. I even saw a Thai woman fall out of a bus while it was making its way along Sukhumvit. One day I was in a bus crash too. It wasn't too serious and the driver just carried on. Again there are just so many ways for life to go wrong for you in Thailand.
One other major issue to be wary of is buying land, property or other investments in Thailand. Think VERY carefully before you part with large amounts of money in Thailand. Scams are rife, property ownership laws are complex, and every year hundreds of foreign men lose their life savings in such deals.
It's also worth keeping a foothold back in your own country. So if your Thai retirement plan doesn't work out, then at least you could return home again. I still have an apartment back in the UK, so if it all turns to shit in Asia then I can go back there and rebuild. It could be a tough few years, but at least I'd have plenty of interesting memories from my time spent in Thailand.
Alternatives to Thailand
Is it still worth retiring to Thailand or are there better alternatives these days?
I had a dream of retiring to Thailand but I must admit after my recent revisit to the Land of Smiles I'm not sure if I should reconsider my options.
I found that prices had gone up in Thailand, service levels weren't any better than before, and dating wasn't that great either.
Time to rethink that retirement plan?
I've heard that Malaysia is an up and coming alternative. It costs more in up front costs but it is a great place to live. I loved Kuala Lumpur. When I went to KL to get my Thai visa I only stayed a week yet I took more photos there than I did in an entire 6 months spent living in Bangkok. I've heard Penang's great too, and might be the best option for a Malaysia retirement option. If you're interested, here's an overview of the pros and cons of retiring to Malaysia.
Elsewhere in Asia, Vietnam is up and coming but I don't know if it's yet a good enough option for retirement. Check out this video if you're interested:
The Philippines is arguably the best alternative to Thailand. It has a similar climate, it's a dating paradise and the government is offering some attractive deals on retirement visas.
Away from Asia, Spain is pretty sweet. I lived in Barcelona while I was doing my English teaching TEFL course. It had a pretty low cost of living and the place was clean and safe. On top of that it only rained a couple of days the whole time I was there.
Central America and maybe the Caribbean are also two other alternatives to Thailand. I've been hearing a lot about Panama. If you've got the cash then it could be a great place to retire to, without the hassles endemic to Thailand.
So those are a few of the issues relating to Thailand retirement. Do you still want to retire to Thailand or have you got your eyes on somewhere better?
If you have any comments, questions or suggestions then leave feedback below.