Welcome to Thai Brides. On this site you'll find loads of useful information about visiting and living in Thailand as well as meeting and dating ladyboys.
If you want to chat to ladyboys online then I highly recommend MyLadyboyDate. It's run by a friend of mine who has a super hot ladyboy girlfriend. Last time I looked there were 14,000 ladyboys with profiles on the site. Sign up and check them out!

Got any questions about Thailand or ladyboy dating? Leave a comment below and I'll do my best to answer you.
Here's my July 2018 trip report from Bangkok, Thailand. I spent 2.5 weeks there while passing through on the way back to Farangland from my teaching job in China…
I'm no stranger to this city. Back in 2013 I tried living in Southern China. But it was a hell hole, and after 4 months I baled out and went for a 2 week vacation to Bangkok.
What I saw impressed me so much that I quickly decided to extend my stay. Fortunately at that time it was still (relatively) easy to get Ed Visas that allowed up to a year's stay in Thailand with 90 day reporting. So I did a visa run to Kuala Lumpur, then stayed a total of 6 months in Bangkok.
Fast forward 5 years and I'm now back in Bangkok. I'm staying here on a fortnight's stopover en route back to farangland.
First tip I have is that if you're travelling check out multi-trip offers. I booked a flight from Shanghai to London via an extended stopover in Bangkok. The price was pretty reasonable for a premium airline's direct flights. Well my Chinese employers pay for flights anyway, so I wasn't too concerned about shaving every available cent off the cost.
As to Bangkok itself, what's changed?
Surprisingly little.
Seriously, I was really amazed to find out that Bangkok is relatively unchanged in 5 years. Hell, if I go for a weekend away in China when I come back to my city I notice all kinds of changes.
I'm staying in Nana and so far have made it up and down Soi 4 a couple of times and I walked to the Terminal 21 shopping mall in Asok.
Very little has changed. There are a few different beer bars in Soi 4. The Subway has gone, but then a lot of them have closed down globally. All is not well in the footlong business.
The shabby street market along the Nana stretch of Sukhumvit has appeared to have been dismantled. This is a good thing as I nearly got my man bag snatched there. And I was pretty sure some of the stall holders were in on it.
I think generally that Bangkok appears to have been cleaned up somewhat. There's less visible sleaze which I kind of guess is a good thing. But there's still a lot of poverty, maybe more than I'm used to in East China.
But it's what's not changed that has amazed me. Maybe that's why so many guys return to Thailand year after year. I go away for 5 years and my favourite bar has exactly the same food menu and the same Singha draught served from the same beer glasses. I think the waitresses are different. But I swear one of the customers I saw last night was also a customer when I was there 5 years ago.
Bangkok is the same same as it has always been.
As to dating, well I'm not here too long but I'll give it a go. I've reactivated my Thai Cupid account. It's around £32 for a month's membership which isn't bad I guess. I tried Thai Friendly and DateInAsia before but neither gave me as many dates as Thai Cupid did. Also I like the familiar user interface and the ease in which you can sort through your contacts.
On the downside it's irritatingly slow, especially loading photos. And you gotta be careful as if you don't click on a button in the settings then they'll auto-renew your monthly subscription. That can be VERY expensive, especially if you never check your credit card statement.
I'm still not sure if it's a good idea to find a Thai bride or not. But I think a Chinese bride would be hard work. Also she'd probably demand a house and a car. China property is in dangerous bubble territory. And unlike in the UK (or maybe Thailand) there is practically no demand for rental property. So Chinese property has a poor return on investment as far as I'm concerned.
Visiting Thailand in the Rainy Season
If you are interested in coming to Thailand and seeing what it has to offer then don't rule out coming during the rainy season.
It's now July and off peak as far as tourism is concerned. But that's a good thing – especially if you're here for beer bars, ladies and dating.
The streets and bars are less crowded. There's not much of a queue for SkyTrain tickets. People have more time for YOU. You'll get pampered more. The airport is less busy (I breezed through immigration).
Sure it does rain, and it rains without any warning. Never rely on the weather forecast – they're very poor at predicting thunderstorms.
Bring a small umbrella with you and you should be fine. If you do get caught out by a thunderstorm then my advice is to sit it out if you can. Of course that's easy if you're stuck in a beer bar.
My Shit Bangkok Hotel
A few more random observations from my repeat visit to Bangkok.
My hotel is shit. This is often a problem in Thailand.
I'm staying at the Boss Suites Nana Hotel. Not to be confused with the famous Nana Hotel.
Both hotels are on the same side of Sukhumvit Soi 4, the street that Nana Plaza and the Hillary bars are in.
The Boss Suites Nana Hotel is in a good location. It's close enough to be within walking distance of all the bars and nightlife of Soi 4. Yet it's also far away from the action that you don't get problems sleeping.
I stayed at this hotel before. It wasn't bad but I had wifi problems. Also some of the, ahem, Indian guests were rather noisy. I thought they were cooking in their room. I left a review about it on Expedia. But due to political correctness they refused to publish my review.
Well what comes around comes around and 5 years later the Boss Suites Nana Hotel is a freaking shithole. There are plenty of Indian guests. Maybe that's the problem, or maybe it's a result of the problem.
You see the hotel just isn't clean. It's absolutely crawling with cockroaches. I saw 3 medium sized ones on my bed, which was fricking awful.
I contacted reception and they said I could change rooms at 2pm. I had to go to my room and wait for their phone call.
30 hours later I'm still waiting…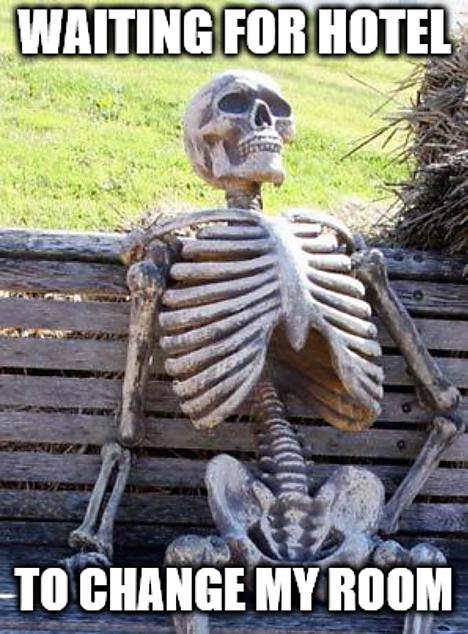 Living and working in China has taught me one thing. If you have a problem, solve it yourself.
So I went to Villa Supermarket and bought some roach motel traps.
I set one up by the mini bar fridge. Within 24 hours I'd caught around 20 roaches. That was considerably more than I'd caught in my filthy student apartment building in a piss poor neighbourhood in Guangzhou, Southern China.
What's scary was the number of babies I caught. So they must be breeding like, er, roaches in the hotel.
Another wildlife problem is that my hotel room crawlspace has an infestation of something larger. Mice or rats I don't know. They've even been in the cupboard. I've seen droppings AND they rattle the coathangers as they rush up and down the walls between floors. Sometimes the noises are really disturbing. I think something scary lives in the crawlspace and is chasing and eating the vermin. Maybe it's a huge gecko or a monitor lizard.
I could put up with these problems if the hotel was cheap, but it's not. It's the usual Thai thing. If you're not attracting customers, raise prices. Then you can make more money from your existing customers. I saw this after the coup when tourist numbers dipped. And it's the same in the beer bars of Soi Cowboy. It's now 180 baht for a beer. I'm sure it used to be 120 or 150. For that you get less shows and less entertainment than you got 5 years ago.
Unfortunately I paid for my room in advance so I'm not sure there's anything I can do. They're just so lucky I don't have a Chinese wife to send down and rip their heads off.
One tip I have for you if you're a repeat visitor to Bangkok or anywhere else in Asia. ALWAYS re-check the reviews of your favourite hotel. It's pretty obvious that the Boss Suites hotel has a cleanliness problem as dozens of people have left reviews mentioning the roach issue.
Rant over… I'm gonna go out and find that Soi 4 food truck with the fried bugs for sale. I'll eat a bagful of roaches and get my own back on the little buggers.
The Decline of Western Tourists
I don't blame the hotel for "going downmarket" and targeting Indian and Middle Eastern guests.
I was in Bangkok recently and there seemed to be fewer Western farangs there than ever before. Especially in the bars.
I went to Dollhouse on a Saturday night and it was empty. I talked to one of the older ladies in one of the other bars in Soi Cowboy. She said the bar business just keeps getting worse.
Sure Bangkok has more Chinese visitors than ever. But they just like taking photos of stuff and riding round in their tour buses. They're never gonna make much cash for the beer bars.
The question is – where's the new Thailand? Vietnam? The Philippines? Cambodia or elsewhere?
Wierd observation from the future: it's now 2020 and the entire world's in Wuhan virus lockdown. Thais were eager to welcome Chinese tourists. Now Thailand has banned all foreigners from even entering the country and the tourism industry has been decimated. How'd that work out for you, eh?
Bangkok's Bar Scene is Slowly Dying
So I've moaned about how my Bangkok hotel has gone downmarket.
What about the famous bar scene?
I'm staying at the bottom of Nana Soi 4 so I've done a lot of walking up and down this famous bar street. I have to walk past the bars to go pretty much everywhere.
The beer bars are still packed, especially the ones at the top of the Soi.
Nana Plaza seems fairly busy. I went for a couple of beers in Angelwitch and it pretty busy.
It's a different story in Soi Cowboy. The place is a lot less busy than I remember. Sure, it has a lot of curious tourists taking photos of the neon lights. But inside the bars it's really quiet. I went to Dollhouse on a Saturday night and for quite a lot of the time I was there I was the only customer on the left side of the bar! Well the dancers were doing such limited shuffling that I don't blame the punters for going elsewhere. Only one girl was making an effort. It was nice to see some guys reward her with a lady drink.
I went in After Skool and the old gal there told me that every year brings less and less customers to their naughty bar.
Suzy Wong's as well was also very quiet. I remember they used to put on brilliant shows, but that seems to be a thing of the past.
I haven't visited Patpong and not sure I will. That place was dying 5 years ago and I'm sure it won't have gotten any better. In fact I heard the only decent gogo bar closed down so there's no reason at all to visit.
As to the bars themselves, regulations and raids have pretty much taken the fun out of a wild night of partying in Bangkok. The girls wear more. In Soi Cowboy they're now wearing underwear under bikinis – ridiculous. And the place is kind of on edge, as if you expect a raid at any moment. That's not what you want when you're having a relaxing beer.
I guess gogo bars won't be around forever. But what else does Bangkok have? Quite honestly the shopping is better in China. Bangkok is dilapidated and the transport system is arguably the worst of any capital city a Westerner is likely to visit. There are also scams a plenty, and there's nobody to oversee standards. My roach motel is really dirty. But there's nobody to complain to. If I was married and had kids then there's no way I would bring my family to Thailand.
Thai Dating… Still as Disappointingly Shit as Ever
Hmmm, I've now been in Bangkok 6 days.
How many ladies have I met so far?
0
Yes zero.
Dating is still shit in Bangkok, and it hasn't got any better since I lived here 5 years ago.
I'm here for a fortnight but I'll be lucky to get a single date.
Sure, I am getting plenty of interests on Thai Cupid. And my TanTan has had more matches in 6 days here than in almost an entire year spent living in China.
Yet I'm still…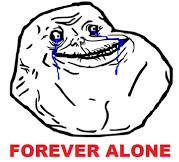 I'm not sure what the reason is. I'm sure if I was Chad Thundercock then the ladies would jump on the next baht bus to come and see me.
A couple of times I've found the old work-6-days-a-week thing. This is very common in Thailand, especially with lower paid workers. They'll generally only get one day off a week. So you'll have to wait forever for a date.
I've had a potential meet in real life girls but inevitably these are the lower quality matches (not that attractive, single moms).
Well I will keep plugging away but remember if you're coming to Thailand then don't expect fast results when it comes to dating. If you're foreveralone.jpg and want female company just go to a beer bar and find a freelancer.
A Re-Visit to Bangkok… Is it Still a Dating Quagmire?
Now been here 7 days and I'm still dateless.
One hot prospect has flaked twice in a row. One night it was raining a bit. I heard Thai people don't like getting their hair wet. Not sure if that's true or not.
Then the following night she remembered it was keep fit night.
I think I'll arrange to meet then not turn up.
Had this before with a Japanese girl. She wouldn't meet me because it was exercise class night.
Really these types of woman are not worth meeting.
So I forgot about women and I went to The Robin Hood English pub near Phrong Phong BTS station. It's really lovely in there, although a little expensive. Well it's worth it if you're travelling round Asia and miss home cooking. They do an excellent sausage, chips and beans. With real thick cut chips, not spindly French Fries.
A few things tell you you're not actually in England. For one there's table service. There was a hot Beer Chang girl playing pool. The table next to me was full of Japanese salarymen enjoying some "exotic" English food. Oh, and an old retired British dude was sat next to a very hot ladyboy.
After that I stopped by Nana Plaza for a bit of fun. I heard Rainbow 4 was a really good GoGo bar. But it really disappointed. Some of the dancers were gilfs. Well maybe milfs but they're the oldest gogo "girls" I've ever seen. All those years and they'd never learnt to dance well either.
There were some cuties in there but many were playing with their mobile phones. Wtf? Why are dancers even allowed to have their phones on the dance floor?
Anyway, Rainbow 4 is pretty poor and I only stayed for one drink. The only plus point was that I managed to Shazam a song it's taken me 3 years to identify.
Spankys or Angelwitch are much better! Especially Spankys. That place is usually rocking and the other night I was so entertained I stayed for 6 beers.
Back to Rainbow 4, or rather leaving that joint. I walked around a bit and ended up going in the Cascades ladyboy bar. For research purposes only you understand.
Well the bar was not busy. In fact they only had one other customer. So I got a lot of attention.
When I went into the bar I had to choose a ladyboy to sit with me. I wasn't sure which one to choose. They were all passable and no gal was below a 7.5. And there were no milfs or gilfs either.
Eventually I waved to one of the dancers. She looked sooooo cute.
Well I bought her a lady drink (same price as my Beer Chang) and, er….
Ladyboys are definitely more willing to give you good value for your lady drink. On the downside I got relentlessly pressured into taking her upstairs for a short time session. It was a really hard sell and it gets kind of irritating after a while.
But generally I was impressed by the ladyboys. They were really hot, really soft and smooth and maybe we guys should give up on biological women and go our own way.
I've definitely noticed more and more super passable ladyboys in Bangkok. Maybe the current generation started hormone treatment from an earlier age, or they're spending more on cosmetic surgery. Who knows.
I've also noticed that the average weight of a Thai lady is soaring. I saw AdvChina had posted this video entitled "Why are Asians so Skinny?"…
Well SerpentZA and CMilk have obviously not visited Thailand, that's for sure.
I've seen more overweight girls in Bangkok in a week than I have in almost an entire year living in China. I mean, seriously, I've seen school girls in Bangkok who weigh the same or more than I do!
I'm not sure why there are so many overweight people in Thailand. Maybe it's Western food, or maybe it's so much fried food. I don't think it's Western food that is to blame. My bar wife friend has really put on a lot of weight in the 5 years since I last saw her. She used to smoke a lot, partly to keep the weight off. But even that hasn't seemed to have worked. I don't think she eats a lot of Western food either. Usually it's a plastic bag full of Issan street food for her.
The Best of Times… The Worst of Times
Well I've been in Bangkok a fortnight now and it's kind of been like the best of times, worst of times.
If you're a Brit (or from most other Western countries I believe) then it must really suck in Thailand now. Prices have gone up AND our home currencies are a lot lower against the mighty Baht.
The UK Pound is down about 23% against the Baht since I was last here. Added to that some pretty major price rises and Thailand is around 30% more expensive for Brits these days. No wonder I've seen so few British sexpats here in Nana Soi 4. There's still plenty of Aussie dudes though. I guess it's not nearly so far to come.
This place is still as corrupt and anti-foreigner as it ever was. Earlier today I saw the litter "police" fining some Indian couple for littering on the sidewalk between Nana and Terminal 21. What a cash cow for the Thais. I'm willing to bet they've never fined a Thai person for littering.
My hotel is really filthy and it's shameful how many roaches I've caught. I never caught so many when I lived in a piss poor neighbourhood in Guangzhou, Southern China.
There are some good things though. It's still a foodie paradise. I was bored to tears of the limited food options available for a reasonable price in East China. But in Bangkok I've had Thai, Western, Mexican and Lebanese food in the last few days.
It's also one of the best places to people watch. And I love walking up and down Sukhumvit just looking out for interesting stuff.
Talking of roads – another good thing is that Thai drivers are pretty civilised compared to Chinese. Chinese roads are appalling and there is endless horn beeping and blasting. It truly sucks to live next to a major (or a minor) road in China. There's no electric bicycle nightmare in Thailand either, so the sidewalks are a lot safer.
Ha ha while I write this yet another roach has crawled into view – I think it lives in the desk.
As to dating, well I've been here 2 weeks and I've still not had a single real life date. Dating is really shit in Thailand now. So don't come here and think you can find a Thai bride in a fortnight. It'll take 2 years or more. If you just want female or tgirl company for the time you're on your vacation then just head to a beer bar. Ignore all the apps and online shit – it's just that – shit.
So I dunno, maybe Thailand is over as a dating destination, and maybe even a retirement destination. I'll certainly be taking a close look at the Philippines, or maybe Vietnam.
Is Thailand really a good place to live? Is it a dream or a nightmare? This video is well worth a look:
Make sure you do plenty of soul searching before you go to Thailand, either for short time or long time.
Oh My God, I Have a Date in Bangkok!!!
BREAKING NEWS – I have a date!
So after fucking around on Thai Cupid, Thai Friendly, WeChat and TanTan for 11 days it has finally all paid off.
Well I haven't met her of course yet and she might still flake.
I've arranged to meet her in a mall. There are a lot of those in Bangkok. I'm going to one I'm familiar with. If she's hot she gets to go to a good restaurant. If not I'll just say I'm not hungry or take her to the food court or something. Sometimes that pisses them off, but often after a bit of reflection they decide that a frugal guy could actually be good husband material.
Anyway I am going into this date with low no expectations. I realise I need a lot more resiliance in my life. Maybe you do too. This School of Life YouTube is worth a look:
Seems that if you lower your expectations, then you won't be disappointed when it all turns to shit. What excellent advice for anyone thinking of dating in Thailand.
As to my date – she's 15 years younger than me. It's kind of pushing things a bit. But she's still in the half man's age plus 7 years range so it should be OK.
She asked if she could bring a chaperone. Uh oh. I've posted about my disasters with chaperones before (use the search to find the posts). But it might be OK. Good quality Thai women are actually quite conservative and also wary of meeting foreigners. I will also add that it's kind of arousing meeting two ladies. I've been chaperoned twice before. In one instance both ladies were hot. In the other my date was average (I only liked her for her teeth braces), but her sidekick was a real cutie.
Well I'm leaving the hotel room. I'll report back later…
My First Date in 5 Years… Will I Still Be ForeverAlone?
Now back from date. It went OK. She was a nice girl. Very nice. So I guess I have proven to myself that there are nice girls in Bangkok, and indeed Thailand.
She bought her friend. We had lunch. They actually paid. What a good sign.
I'm definitely out of practice at the whole dating thing. I guess that showed. I was definitely a little beta. Maybe I have been burned by the bad memories of previous relationships.
I'm not sure I'll see her again. The age difference was pretty big. It's not a problem for me, but maybe it's a problem for her. Also there are an awful lot of dudes in Bangkok, so she has no shortage of suitors. Especially as I'm not staying here long time.
Well we will see…
BTW if you want to find better quality ladies on Thai Cupid (where I met her) then here are some parameters to set when you make a search:
Aged 30+.
No children.
Not divorced.
Have the minimum of a Bachelor's Degree when it comes to their education background.
Work in something like Finance / Banking / Real Estate.
Live in the outer ring of districts that surround central Bangkok. Phra Khanong and Bang Na are two that I've had a lot of success with. Ladies who live in these neighbourhoods can generally hop on the BTS and come and meet you in Asok or Ekkamai (the latter is my favourite first date spot).
Speak some English (none is hard work; if they speak very good English then that's suspicious).
As for me, I'll probably celebrate a nice first date with a nice girl by going to Hooters or getting a date with a gigantic boobed ladyboy fembot.
Last Day in Bangkok… Rubbish Dating and Higher Prices
Well it's now my last day in Bangkok and dating here has proven as big a disappointment as it was when I lived here 5 years ago.
In 2 weeks I got one date. I almost met another "lady" from Thai Cupid. She said she worked on Pratanum, near all the fashion malls. I nearly got to meeting her but exited Central World by the back door then couldn't find the way to Pratanum. So I went to Siam Paragon instead.
It was good to know she gave zero fucks about me anyway by not asking how I was on LINE. Probably I made the right call of not going to see her.
Anyway, the clear winner as far as getting dates concerned was Thai Cupid. Thai Friendly has too many free male members on it and it's a real sausage fest. Women ain't gonna hook up with you as there are too many playboys and dudes in farangland who will willfully send them money.
Dating apps were also a bust. Chinese made Tinder clone TanTan got me a lot of matches. But that's all they were, matches. Again all that swiping was a bit waste of time.
Fed up with dating I had another great night out in Bangkok's bars. I was walking from Asoke back to my hotel when the heavens opened and a huge thunderstorm hit. I took refuge in a sports bar on Nana. It wasn't bad but there were a couple of irritating Brits there talking shit. That kind of reminded me of one of the good things about living as an expat – far less dickhead fellow countrymen to contend with.
After that I went to Hooters on Nana Soi 4. It's new and many were surprised when Hooters opened a bar in a notorious sex tourist street. But it's a great bar with good food, good atmosphere and some stunning Hooters girls.
Here's the Hooters girls in action (not my video):
One of the comments for the video is:
Having a hooters in Bangkok is like having an ice cream in Anartica
Yeah I guess it's fairly tame compared to many other bars in the same street. All the same it's a good meeting place and also has some above average food for this street. I guess it's also a sign of things to come. The place was packed with farang ladies having a good night out. It goes some way to filling the void left by so many Western guys giving up on Thailand and going elsewhere.
I've definitely noticed less Western guys here than before. Brits especially. But then Thailand is around 32% more expensive than when I lived here 5 years ago.
So Hooters was great, and after that I milled around in Nana Plaza for a while. I had developed a big case of bar stool cramp from spending too long in Hooters.
Eventually I ended up in Obsession – the ladyboy bar at the back of the ground floor.
This is a really great bar if you're curious about ladyboys. The ladyboys are friendly and not so overwhelming as they are in Cascade.
Obsession is also a better bar if you're interested in more feminine looking ladyboys. The girls in the bar are of the "kawaii" kind and they're likely to be picked specifically to appeal to the Japanese salaryman rather than Westerners. But it's OK as Westerners are made very welcome. When I was in there I'd say Japanese/other Asian guys outnumbered Westerners by 3:1.
When you enter the bar you get to choose a ladyboy to sit with. They'll pout and preen to try and get you to pick them. Unlike Cascade they're not as overly aggressive though.
I bought a couple of lady drinks – they're the same price as a beer so are good value compared with other gogo bars in Bangkok.
The other nice thing about Obsession is that there's some good music but it's not too loud. So you can easily hold a conversation with your chosen ladyboy. This is nice if you want to find out more about Thailand's 3rd sex. They're really open to questioning about all kinds of personal stuff. I found out all of the ladyboys in Obsession are pre-op (i.e. have dicks). Well you gotta ask that I guess.
I guess they're more "bottom" ladyboys. If you want a "top" ladyboy then go to Cascade on the first floor. My ladyboy said that some of the Obsession girls have small dicks, or their dicks don't work so well. It's the price they pay for looking so damned passable.
What else? Well I got more conversation out of the ladyboys than I did from any of the biological ladies I spoke to in the other gogo bars in Nana Plaza and Soi Cowboy. Once again I've been impressed with how generally smart ladyboys are compared to real ladies. See we guys can be better at being a lady than a real lady can.
Either I'm getting older and appreciate eye candy more, or ladyboys are getting a heck of a lot more passable than ever before. Certainly pretty much all of the Obsession girls are passable and many are real stunners.
I had a drink with one who was OK but maybe a little shy. For the second lady drink I chose a more outgoing curvy girl. She was freaking awesome. Hot, smooth, soft and actually her boobs felt more real than my busty Chinese ex's did. How is this possible?
I'm really pleased that there wasn't too much of a hard sell for bar fining and other services, so it's a good place to go if you're still unsure about the whole ladyboy thing.
On the downside she did show me a whole load of dick pics on her mobile phone. And they weren't pics of hers either. Still it's good to know that ladyboys love sex and won't make 10 million excuses to avoid it like your wife will.
Back in Farangland
I'm now back in the UK and I hope you enjoyed my live blogging from Bangkok.
In retrospect I don't think Bangkok or Thailand has changed at all since I was living there 5 years ago.
I kind of think it's a joke country. You shouldn't take things too seriously. Go there and have fun. But think seriously before you find anything long term there. That goes for long term visas, long term relationships, long term rental agreements etc. etc.
Look at my recent trip. The hotel was full of vermin. Dating was a complete waste of time. The bars were fun but wtf – Hooters hit me with 10% service charge and 7% VAT. I saw an increasing number of places pulling this nasty trick and it's a sign of a very mature tourism industry. Which in itself is a sign that you should go off and explore somewhere less developed.
Oh, and I have to say that Thailand's McDonalds food is really lagging behind other countries. It's way better in China.
I was reading a thread on Thai Visa about a guy who was renting an apartment in Bangkok. A whistle man* was making his life a misery. Well as someone who lives in China I know all about noise and how poor it makes your quality of life in Asia.
This is about the best response:
You're done and time to move.

Loud dogs, parties, whistles, families arguing or roosters.

SameSame time to move
Actually this is what made me leave Thailand in the end back in 2013. I had a nice little apartment and a great lifestyle. But one day I got attacked in a supermarket by one of my fellow countrymen. I just knew I had to leave Thailand before something really bad happened to me.
*One of the Thai guys who stands outside a mall or an apartment complex with a very loud whistle to stop traffic and direct vehicles on or off the premises. If you've ever walked along Sukhumvit in Bangkok then you'll have seen them – especially outside Terminal 21 in Asok.