Welcome to Thai Brides. On this site you'll find loads of useful information about visiting and living in Thailand as well as meeting and dating ladyboys.
If you want to chat to ladyboys online then I highly recommend MyLadyboyDate. It's run by a friend of mine who has a super hot ladyboy girlfriend. Last time I looked there were 14,000 ladyboys with profiles on the site. Sign up and check them out!

Got any questions about Thailand or ladyboy dating? Leave a comment below and I'll do my best to answer you.
In a previous post I covered my 6 months spent in Bangkok. Go read it if you want to fancy living in Thailand's capital city.
In this post I'll cover my time spent in Sin City itself, Pattaya.
First of all a little bit about the city itself…
Pattaya is a beach resort quite near to Bangkok, which itself is roughly in the centre of Thailand. Pattaya itself can be reached from Bangkok by various means. There's an incredibly slow train service (not recommended), an airport (but it's my understanding most flights are charters from Russia), plus a freeway from downtown Bangkok (this is how most visitors get there).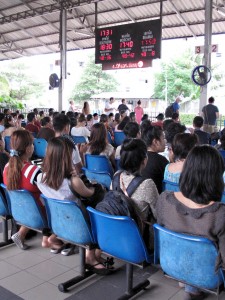 You can opt to get the bus or a taxi from Bangkok. Taxis are faster but will cost more, although you might strike a better deal going in the other direction as Bangkok taxi drivers won't like to hang around in Pattaya. Alternatively there's a regular bus service between Bangkok and Pattaya. I recommend the bus from Ekkamai bus station. Ekkamai is far enough out of central Bangkok that you won't get too many traffic jam problems trying to leave the city. Ekkamai's bus station is also right opposite the Ekkamai BTS Sky Train station.
Anyway, the bus is convenient and there's the added bonus that you might sit next to a bar girl for the length of the journey. Just bear in mind the buses get full at peak periods (e.g. Sunday evenings) so take a taxi if you're in a hurry.
Incidentally Bangkok's Suvarnabhumi International Airport is on the Pattaya side of Bangkok, so it's fairly convenient to fly into that airport and then head straight to Sin City.
When you get to Pattaya's bus station then transport options deteriorate somewhat. Pattaya has a somewhat prehistoric public transportation system. Don't go expecting metro trains, trams or buses – it's got none of those. Instead the options are taxi, motorcycle taxi or Songthaew. Songthaew are a kind of pickup truck with seats for passengers on the back. They're cheap and also nice and convenient if you know where they're going. On the downside some of the drivers overcharge and it's all too easy to fall off the back of one of them and become died.
So, once you get there, what is there to do?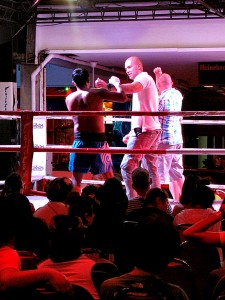 I had a really memorable first visit to Pattaya – I got to Beach Road just as the sun was setting over the famous Pattaya sign overlooking the bay. There were also fireworks that evening – I forget what the celebration was.
The city has a whole load of bars and restaurants. I don't think any other city has so many bars per head of population. Well maybe Barcelona.
There are also lots of hotels and condos for rent there, so you'll have no problems finding somewhere to stay. The first time I stayed with a friend in his condo, on my second visit I booked a hotel run by a weird American dude. It was a weird hotel as well – and to my disappointment there was a no ladyboy guests sign in reception. I was more upset by the discrimination than the fact I might not be able to have a memorable night in Sin City.
Anyway, that's something to check if you're thinking of bringing a ladyboy (or even a lady) back to your room. It's best to keep in with your hotel staff, as they'll keep an eye out for troublemakers etc. etc.
It must be said that Pattaya by day is not the most thrilling place on the planet. It does have a beach, but the sea gets deep very quickly, and it's generally not that safe for swimming. It does have a lot of restaurants, none of which are particularly memorable. Still, if you're thinking of going to Thailand but are worried about having to eat rice and shit, then rest assured, you can find all kinds of Western food in Pattaya.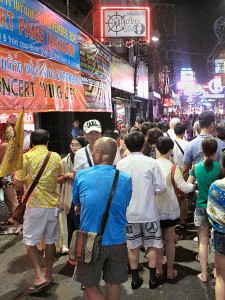 Pattaya doesn't really get going until 8pm, and is really in full swing by 11. By then there are a bewildering array of bars and clubs to go to, with many of them being situated along Pattaya's World famous Walking Street.
A good thing about Pattaya compared to Bangkok was the much lower prices, particularly for food and drink. Another good thing if you're there for the ladies is that prices are lower and the girls are more fun loving.
One thing that surprised me about Sin City was the number of people who weren't there for the beer and hookers. Of course there are lots of Chinese tourists there these days. They were mostly there to look and not play.
But there are also a lot of Western and Eastern expats who have chosen to live in Pattaya. There are so many Brits there that they even have their own local English language TV stations. Not all are retired former sex tourists either. Many Western couples live there, taking advantage of the sun, sea and much lower prices for food, entertainment and healthcare that they pay back home.
As for me, well I couldn't really imagine living in Sin City – two days at a time was about all I could handle. I'm more of a city guy, so I was always glad when the Pattaya bus rounded the corner back onto Sukhumvit.
I have some great memories of Pattaya, but there was an ugly downside to the city. After dark, the stray Soi dogs started looking at me like I was a walking pork chop. There were plenty of crazy dudes, and maybe also a load of crazy ladydudes as well. I really thought the transportation infrastructure sucked – in 21st century Thailand surely they can do better than the motorcycle taxi. And yeah, it is sunny in Pattaya, but I was there during the rainy season and the rain had to be seen to be believed.
As for the ladies, well they were fun, but Pattaya is likely to be the last place on the planet where I'd contemplate looking for a life partner.
Pattaya is a great party city but you'd probably go mad if you lived there. So if you're interested in living in Thailand and want sensible girls and a low cost of living, then where is best? Check my ladies by province map to find out!
Pattaya Report from my Old Asian Dating Forum
After living in Bangkok for a couple of months, I decided it was time for a road trip.
So I decided to take a trip to see what Pattaya has to offer.
Now I'm quite fortunate in that my Bangkok apartment is about 15 minutes walk from the Ekamai bus terminal that you can catch the bus to Pattaya from.
If you're not as fortunate, well the bus terminal is actually right next to Ekamai BTS station. There are actually other places to catch a bus to Pattaya (like from the airport), but if you're already in Bangkok then Ekamai is geographically closest, so you'll avoid the worst of the traffic on Sukhumvit.
At the bus terminal I had a bit of trouble in that the first Pattaya counter I went to was not actually the right bus. But fortunately I spotted the Roong Reuang counter in the nick of time so I avoided getting what I guess was the slow bus to Pattaya!
Well anyway the Roong Reuang express bus to Pattaya is very cheap (124 baht) and reasonably fast (2 hours). For the best journeys, try to travel on weekday afternoons when the traffic is least bad.
So I got to Pattaya bus depot, which is quite a way out of town. This being low season, I had to wait forever for one of those Jeepney type things they have (strangely no tuk-tuks in Pattaya).
Still the delay meant I got to Beach Road just as the sun was setting, and I had a rather emotional reunion with the sea. It's the first beach I set foot on for 6 months, which is a long time for a guy who grew up by the sea.
While looking for vantage points to photograph the sunset I got hustled (hassled?) by some rough looking ladies.
Beach Road is full of freelancers, although long time Pattaya visitors will tell you that there aren't nearly so many freelancers about these days. I guess that's due to the booming economy, the police or simply the fact that so many guys use the Internet to meet girls these days.
Beach Road leads to Walking Street, the nightlife heart of Pattaya.
Where does the term Walking Street come from? It's also used extensively in China, yet it's not a term we English ever use.
Well this was my first visit to Pattaya and it was totally overwhelming really. As someone who has walked through the tiny Soi Cowboy, the vastness of Pattaya is something else altogether. It's like the entire city is just one big bar.
There are loads of different bars: gogo bars, beer bars, bars where you can play pool with bikini babes, ladyboy bars, bars with revolving bars, bars where Arabs go to listen to unfeasibly loud music and bars full of Russian girls who are no doubt all available on Russian Cupid.
Never again am I going to ask anyone for advice on whether I should take my umbrella. Later in the evening a thunderstorm appeared. Pattaya was lashed with rain and there was a lot of lightning out beyond the bay.
I dashed inside a McDonalds on beach road. There I had my first ever post-midnight Double Cheeseburger. Which incidentally was the best for a very long time.
Well that was a spectacular place to people watch, and also watch the lightning silhouetted against the palm trees.
I'm a bit hazy as to what happened where but at one stage I ended up stranded and umbrella-less in a half-deserted street (it being a Thai public holiday).
Eventually, I gave up and went back to the condo I was staying in.
There are some terrific condos in Pattaya. It's no wonder so many of my fellow countrymen from the UK are retiring there. On the downside if you buy then you have to live in one place, whereas I'm renting places monthly and can live anywhere I choose.
The next day I hit the town after lunch and walked along the beach. I wanted to see bikini babes, but was sorely disappointed. In fact the Pattaya beach is pretty rubbish, well it is if you're used to the glorious beaches in Devon and Cornwall back in my native England.
Pattaya is pretty drab during the day, but when the sun goes down it wakes up.
In one bar two groups of tourists caught my attention. One group of Europeans were pushing things to the limits in terms of girl fondling and one even did some pole dancing on one of the tables. Could you imagine this happening in no-touch policy Vegas?
There was also a group of big spending Asians – either Japanese or Koreans. Many drinks were bought, and when the girl came round to sell the ping pong balls [customers can throw them and the girls get some money according to how many they catch] these guys bought the whole lot. Also they were having fun inserting 100 baht notes into various places money would fit on a nude girl.
As to the girls, they mostly seemed quite tall, but it may just be the angles and looking up at them, plus their tall shoes.
I saw a few guys checking their Facebooks in the bar and finding out what boring stuff the folk at home were up to. Well being in a Pattaya bar is better than 99% of anything, so get out of your houses and/or countries guys and go do something seriously fun.
Then I walked up and down Walking Street in the rain and I got totally overwhelmed and didn't know where to go next. At one point I found himself with a tall bondage gear clad ladyboy attached to my arm. All human life is in Pattaya.
By now the rain was coming down quite heavily and only Chinese tourists wear those all over plastic raincoats! So I ignored all the umbrella sellers and walked around totally drenched.
Eventually my confusion subsided and we found ourself in another bar, this time one off the main tourist drag of Walking Street.
As a result this one felt a lot more relaxed.
We were ushered to our seats. I've since discovered there's a secret code in this bar – "poor" punters are sent to the left, "rich" to the right. The bar staff are looking for older single guys or groups of high spending Asians.
Well there were plenty of nice girls in this bar. Again, drink prices were very reasonable, and there were plenty of nice girls to meet.
Eventually I spotted HER – a girl who had just returned to dance. I ushered her over, bought her a drink and enjoyed her company.
She was 24, soft and smooth and now I'm trawling Thai Cupid for her exact replica.
I kind of wished I'd offered to take here out, but then I'd fallen in love with her and there are 10,000 stories on Stickman Bangkok as to why it's NOT a good idea to marry a bar girl.
The next day I went back home. I did something new for my life's bucket list – went on the back of a motorcycle taxi. Pretty good, but not nearly as hair raising as travelling through Guangzhou on the back of my friend's performance-tuned electric bicycle.
Anyway, to summarise:
Pattaya is an awesome place to retire to if you like young girls, beer, sunshine and live music.
If you're coming to Bangkok, then plan on spending at least a couple of nights in Pattaya. It's just two hours away by air conditioned coach, and Pattaya hotels are dirt cheap.
There are better beaches in Thailand, but not better nightlife.
Pattaya is a great place to come if you're interested in finding an Asian wife and you just want to get a feel (literally) of what Asian women are like. HOWEVER, Pattaya is NOT such a good place to find a wife. You fall in love in Pattaya, you lose. It is a GREAT place to find a girlfriend though!
So Pattaya – a good place to live and to party? Or for both? Leave your thoughts below!