Welcome to Thai Brides. On this site you'll find loads of useful information about visiting and living in Thailand as well as meeting and dating Thai girls.
If you want to find a Thai bride then I highly recommend Thai Cupid. I averaged one date a week while I was using it when I lived in Bangkok. Sign up and check them out!

Got any questions about Thailand or Thai dating? Leave a comment below and I'll do my best to answer you.
Here are my favourite, hand picked resources for men seeking Thai brides.
Stickman Bangkok
The Stickman site's been around forever, and looks like it was designed decades ago. Still, it's a good source of high quality information about Bangkok, and Thailand in general.
I particularly recommend the Readers' Submissions. These are thousands of stories written by men who have gone to Thailand to live that dream. I've spent whole days just reading these stories.
If you're thinking about finding a Thai bride then read as many of these stories as you can. Then you'll have a much better idea of what you're getting yourself into. Just don't let the scare stores put you off finding love in Thailand.
As to Stickman himself, I find him pretty jaded these days. A wise man knows when to leave Bangkok.
Thailand Musings
Thailand Musings is a long established blog written by a guy who has a Thai wife of his own. There's an endless amount of information about Thailand and Thai women on this site.
Incidentally, the owner of Thailand Musings met his wife on Thai Love Links – so that's another success story for this ever popular Thai dating site.
Mizz Thai
Dating sites are full of ladies and ladyboys seeking guys who will love them long time.
But what if you don't want that?
The Mizz Thai website could be for you. It's a dating site for guys, girls and ladyboys seeking travel partners. Want some companionship while you're in Thailand or elsewhere in SE Asia? Then check out the Mizz Thai website. It's free to register and join, and you can see if there's anyone who is interested in hooking up for a while.
If you're in Thailand for just a week or two then this is definitely a lot better than messing around on Thai Cupid. When I moved to Thailand I only got one date in the first fortnight I was there – how frustrating!!! If only I'd have known about Mizz Thai.
Ladyboy Forums
Some ladyboy forums for you: BangkokLadyboys and LadyboysPattaya are worth a look if Thailand's tgirls are your thing. Both are active forums and you can ask questions about Bangkok or Pattaya in the relevant forum. Of course you can also post a message here on ThaiBride.net.
Geek Meets Ladyboy
Interested in Thai ladyboys? Then Geek Meets Ladyboy has some useful info on dating Thailand's 3rd gender.
Thai Visa
Thai Visa has a lot of shit on it (especially in the forum!) but I found it a great place to keep up to date with the political turmoil that was engulfing Thailand while I was living there.
The Loveshack Forum
Need relationship advice? The Loveshack Forums are a great place to get help. Whether you need help with marriage, divorce, dating (online or offline) then join the forum and get your problems solved today. There are specialist experts with years of experience in cross-cultural and long-distance relationships, just the thing if you're thinking of finding a Thai bride.
Richard Barrow
Richard Barrow is a great commentator on all things Thailand. His Twitter account was an essential resource during the political trouble in 2013.
The Sexy Clothes Store
A quick shout out to The Sexy Clothes Store – take a look if you want to buy some sexy dresses, lingerie, swimwear or some super special hot items for your Thai girl or ladyboy lover. Most items can be shipped free of charge to Thailand or elsewhere in Asia. Since they're dispatched directly from China they won't take too long either. Sizing is easy as well as all items are Asian sized. Incidentally, ladyboys *love* this kind of stuff – I was in a bar with some once and there were squeals of delight when they opened up a consignment of high heeled shoes they'd bought online! True story 🙂 .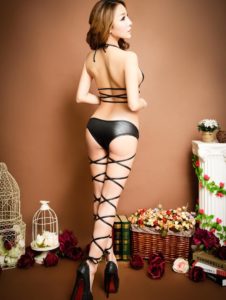 Asian Love Connections
Asian Love Connections offers totally free Asian online dating.
If you've seen any more high quality Thailand resources then let me know, and if they make the grade, I'll add them to the list.