Welcome to Thai Brides. On this site you'll find loads of useful information about visiting and living in Thailand as well as meeting and dating ladyboys.
If you want to chat to ladyboys online then I highly recommend MyLadyboyDate. It's run by a friend of mine who has a super hot ladyboy girlfriend. Last time I looked there were 14,000 ladyboys with profiles on the site. Sign up and check them out!

Got any questions about Thailand or ladyboy dating? Leave a comment below and I'll do my best to answer you.
OK so in this article I'll recount some of my memories of living in Bangkok for 6 months.
A wise man knows when it's time to leave Bangkok. I have fond memories of living there, but I saw plenty of evidence of guys who had outstayed their welcome.
This is my story…
My arrival in Bangkok was as surreal as my subsequent departure. I arrived at Bangkok's Suvarnabhumi International Airport after having spent four crazy months living in Southern China.
At the airport I was greeted by a taxi driver who spoke English. I'd never encountered a Chinese taxi driver who spoke more than one word of English, so this was a novelty in itself.
Well it must be said that although the taxi driver might have spoke fluent English, I couldn't really understand a word he was saying.
After flying down the free-way towards central Bangkok I got my first glimpse of the sprawling metropolis. The tall buildings downtown looked very much like Tokyo. Sadly I soon found out that Bangkok has something I never really saw in Tokyo – traffic jams!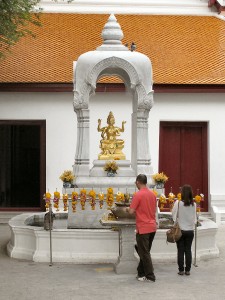 Pretty soon a thunderstorm arrived just to kill of any notion of my getting out of the taxi and walking to my hotel. Which wasn't really an option given I had no idea where I was or how far the hotel was.
Eventually we crawled into the car park of the Nana Hotel. All well and good until I tried to check in and the lobby staff had never heard of me. Cue for much worry on my part until I realised that I was really staying at the Boss Suites Nana Hotel – which was about half a kilometre down the same road. Thankfully some phone calls were made and a Tuk-Tuk dispatched to find me.
 So what were my first impressions of Bangkok?
Having spent four months in China, I was amazed to see foreigners! Westerners are incredibly rare in China, and I would routinely go an entire day without seeing another non-Chinese person. I was also amazed to see bars. Chinese people are too busy working to go to bars.
I was impressed with my hotel. It was so much better than what passed for a budget hotel in China.
However, I was less impressed with the beer prices in the local 7-11. Still, I was on holiday, so I didn't want to grumble too much.
A Fortnight's Holiday Turns Into a 6 Month Holiday
Two weeks in Bangkok and I decided I definitely wanted to stay longer. So I did a bit of research on the visa issue and how I could extend my 30 day visa into something longer.
Being too young for a retirement visa and not wanting to teach English or something, I found that an ED visa would be the way to legally stay in Thailand for a while [here more info about studying in Thailand].
The downside was that it cost quite a bit of money, and to get the paperwork approved I had to leave Thailand for a week and then return.
By the way it's my understanding that it's now much harder to get an ED visa. You can still go down this route if you're serious about learning the Thai language and want to attend your lessons, and it's generally easier if you sign up to study at a University rather than a language school.
The language school I chose was Pro Language in Bangkok. It was a great little school in a nice central Sukhumvit location. However, I chose not to attend many of my language classes. This was mostly due to my having just spent four months intensively studying Mandarin Chinese, so I was all burnt out of learning foreign languages…
As for accommodation, eventually I settled for a studio room in the cheapest hotel I could find on Booking.com. They allowed me to pay monthly which was great. I had a generally good experience there, well apart from the time the staff lit a bonfire on the premises and filled my room with choking fumes… welcome to Thailand, leave your common sense at the airport.
Six Months in Bangkok and the Tough Guys Tumble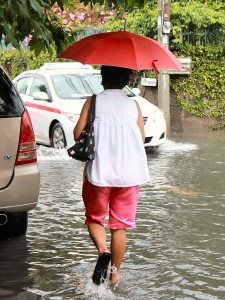 Believe me when I say that after 6 months in Bangkok, I saw just about everything. So what did I think about it?
Living costs were very attractive, although again beer prices rose while I was there (due to government taxes). People are surprised when I tell them that beer in Thai supermarkets actually costs more than it does back in the UK. And it's many time dearer than it is in China or Vietnam.
Food quality was good, something that could not always be said about China. The food in Tesco Lotus was way better quality than it was in Tesco's store in Guangzhou, China.
The weather was, er, crazy. The best time to visit is in November – February when it's shit in Northern Europe and you need guaranteed sun and 20°C temperatures (or warmer). I chose to visit in June – December so I endured much of the rainy season. And rain it did – one night I had to wade through well over a foot of water to get back to my hotel. As for heat, well Bangkok certainly lived up to its reputation of being the hottest city on the planet. Although the temperature topped out at 39°C (a lot lower than it gets in say Dubai), what's distinguishing about Bangkok is that it's

always

hot – day and night.
Accommodation is of good quality and there's plenty around. There has been a lot of condo building in the last few years. On the downside, Thai people don't like negotiating and would seem to prefer leaving a property empty than rent it out at market rates.
And talking of Thai people, you will encounter a lot of Thainess. This means things like when the country has a coup and the tourist industry suffers, hotels

raise

their prices. I also found that Thai people have a huge concept of face/losing face, much more so than I encountered in China.

Spend any time in Bangkok and you'll realise that the city has a major traffic problem…

Transportation wasn't so good in Bangkok, and for that reason I only left the city twice in 6 months – both times going to neighbouring Pattaya. On the way back from Pattaya I saw a pretty bad road traffic accident, so that put me off going anywhere else. The trains and planes aren't that much safer either…

Dating wasn't as good as I thought it would be. I dated lower quality women than I did in China. It was also surprisingly hard to secure dates. If you want to be swamped with offers from attractive women, then maybe the Philippines is the last place left on Earth where that can happen to any guy.
Ladyboys impressed me with their wicked wit and general enthusiasm. Yes they were crazy at times  – I once drank beer with a guy who'd been hospitalised by one. I have to say that ladyboys were much smarter than the Thai women I met.
Of course there is P4P and the bar scene. I really enjoyed that, although people watching, beer and farang food was what I liked, rather than the bar fining and all that goes with that.
As to personal safety, I found Bangkok pretty safe, but you needed to keep your wits about you. To be honest the worst trouble I got there was from my fellow Brits – NOT Thai nationals. So be careful of the company you keep while you're there. I will just mention though that I saw a couple of altercations between farangs and Thais, and was stunned at how quickly a small crowd formed in such situations. Needless to say, if you've been ripped off or something unfortunate has happened, keep it in perspective and don't get hospitalised or worse for the sake of 100 baht.
Finally I was there just before the 2014 military coup. I did see a lot of political protests while I was there. The mood was mostly jovial, but I was acutely aware that the police generally stayed well away from protests, and if you experienced any trouble during them, you were on your own.
I will say that I *really* enjoyed living in Bangkok. I adopted Hotel California as my own personal anthem:
You can check-out any time you like… But you can never leave!
But leave I did. It was largely prompted by getting attacked by a crazy British guy while I was quietly buying my lunch one day. I dearly loved Bangkok and all it had to offer, but I didn't want to become another statistic.
Anyway, if you have any questions or comments about your own plans to live in Bangkok or elsewhere in Thailand then I'm happy to answer them – just post feedback below.
Save