Welcome to Thai Brides. On this site you'll find loads of useful information about visiting and living in Thailand as well as meeting and dating ladyboys.
If you want to chat to ladyboys online then I highly recommend MyLadyboyDate. It's run by a friend of mine who has a super hot ladyboy girlfriend. Last time I looked there were 14,000 ladyboys with profiles on the site. Sign up and check them out!

Got any questions about Thailand or ladyboy dating? Leave a comment below and I'll do my best to answer you.
What are the benefits of finding a Thai bride?
Here are some of the good reasons for finding a Thai bride instead of a wife from your own country.
Younger Brides
If you want a younger bride, then Thailand is the place for you.
Sure, you might get some funny looks from people if you date a much younger Thai girl.
On the other hand we men are programmed to prefer younger women. And if you want to start a family later in life then you've really got no choice but to seek out younger women.
I will point out that not all men with Thai brides marry a girl who's 20-30 years their junior.
By the way, there's another benefit to younger brides…
Men who marry younger women tend to live longer. Oddly enough, women who marry older men also improve their life expectancy.
So much for cougars dating hunky younger guys!
How young can you go? If you want a super young Asian bride then you'll honestly do better in the Phillipines. But Thailand isn't too bad. When I was 41 I dated a girl who was 21. I got to three dates so it wasn't bad but really I did better with the 30 – 32 age range. I could have gone younger if I'd had lowered my standards somewhat, but I really hate doing that.
Choice
If you want to find a bride from Thailand then you'll no doubt be stunned at the choice of women available. Take Thai Kisses – that single dating site alone has 13,332 profiles of women who are between the age of 20 and 45. I don't know how many women are on Thai Cupid. All I know is that when I lived in Ekkamai in central Bangkok I could find loads of ladies who lived within walking distance of me. Phra Khanong was always a good hunting ground, and Bang Na towards the end of the BTS (although they've extended since then).
And again, that's just on a single dating site!
Add in the Thai women on other sites like Thai Cupid, Thai Friendly, DateInAsia and Cherry Blossoms and your choice of potential future bride are almost limitless.
Of course the dating sites in your local area might have an abundance of women on them as well. But invariably they'll be chock full of bubbly (fat) or family orientated (single moms) women. I tried Plenty of Fish once, but the quality of single women in my local area wasn't great. Plus they banned my account after a couple of weeks. It was all a gigantic waste of time.
Sexy Asian Women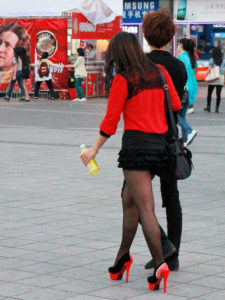 You can't really mention Thai brides without covering the yellow fever angle.
For some reason most Western men have a big thing for Asian women. I don't know why this is. But having dated many Asian women I'd say that the Western man/Asian woman pairing seems very natural.
On my many visits to Asia I've also been impressed by the fact that Asian women really take pride in their appearances. Asian women tend not to smoke or drink too much, especially if they're of Chinese origins. I taught English in China and out of 144 students I'd say that only 3 or 4 were obese – the rest had awesome hourglass figures. Funnily enough many of them thought they were overweight, even if they weighed no more than 99 lbs. Well that's what women are like I guess.
Thai women age pretty well, and they tend not to get chubby in middle age as Filipino women do. Not that there's too much wrong with a bit of fat – Asian women with a few extra pounds are extremely soft, and who cares what they look like, it's what they feel like that will drive you wild with desire!
All of the Asian women I've dated have also dressed very well, and I've really been proud to be seen around town with them at my side.
Mild Temperament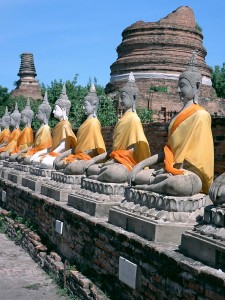 Thai women have a reputation for having a happy, smiling temperament. In my own search for an Asian bride, I've dated some pretty formidable Chinese women. Sometimes I wonder if I'd be better off with a mild Thai girl.
Most of the Thai girls I dated lived very much in the present. They can be great fun to be with, but they're generally not that great at planning ahead. It's kind of OK though if you're the type of guy who can wear the trousers in a relationship and make sure things don't to awry.
It's also worth bearing in mind that while looks are important, make sure you choose a Thai bride who has a nice personality! I can't think of any really toxic Thai women I dated. I broke off one promising relationship because the girl's sister had designs on my money. But my own girl was really sweet and lovely.
Take it from me, Asian singles sites are full of women who are single for a reason. Thai men often have a bad reputation with farangs. But never doubt a Thai man's ability to avoid a troublesome Thai woman. Just bear it in mind that many women who are single are single for a reason. Make sure you avoid women with toxic personalities.
Retirement Possibilities
One great reason to find a Thai bride is if you're actually thinking of retiring to Thailand.
One tip here though, you might want to wait until you've relocated to Thailand before you actually search for a bride. It's much easier to find a wife in a country in which you're currently living in. The other great thing is that since you'll be in Thailand, you'll have your pick of the best women on Thai dating sites as you'll be able to meet them long before any other guys can book their own trips to Thailand!
Be sure to check out the how many ladies there are in each Thai Province tool I built for this site. If you want to live cheaply AND date Thai women then you'll want to zero in on places that are cheap but are also dating paradises.
The Risks and Benefits Equation
Before you look for a Thai bride, it's worth bearing in mind that there are many risks involved. These risks include the cost of finding a wife from another country, scammers on dating sites to the general stress of conducting a long term relationship.
So make sure you're aware of both the risks and the benefits to your looking for a bride from Thailand. Do some soul searching, and if you think the benefits outweigh the risks, then go for it!
Good luck in your search for a Thai bride!