Welcome to Thai Brides. On this site you'll find loads of useful information about visiting and living in Thailand as well as meeting and dating Thai girls.
If you want to find a Thai bride then I highly recommend Thai Cupid. I averaged one date a week while I was using it when I lived in Bangkok. Sign up and check them out!

Got any questions about Thailand or Thai dating? Leave a comment below and I'll do my best to answer you.
So how do you find a Thai bride?
I've been looking for an Asian bride myself for around three years now. I've travelled to Asia, met women, and had some incredible adventures along the way.
In this article I'll show you the process and recommended steps you need to work through in order to find a Thai bride.
Choose Your Country
First things first, do you want a Thai bride, or just an Asian bride? Be clear in your mind which Asian country's women you like the most!
Of course Asia isn't even your only choice. Both Russian and Latin American women are other options.
A relative of mine has been dating Asian women for decades. His words of advice?
Choose an Asian country you like, and stick to it. This will allow you to get to know the culture, the language, and help you avoid the usual scams that new visitors to that country often fall for.
So if you're not sure, then be sure to read this article about dating other Asian women.
Online or Offline Dating?
Are you living in Thailand? Congratulations, you'll find it much easier to meet Thai women!
If you're already living in Thailand, or you've retired there, then you probably don't need my advice when it comes to meeting women.
What I will point out though, is that most Asians get married after being introduced to their future partner through friends or family. This is still the best way to meet Asian women. So if you're living and working in Thailand then start building your social networks as a way of meeting reliable and honest women.
Online Dating or Introduction Agency
If you're not lucky enough to be living in the Land of Smiles on a long term basis, then online dating is probably going to be your best port of call.
There are a wide variety of dating sites – read about them here.
Where many men lose their minds is that they are totally naive about dating sites and the quality of the women on these sites.
Most dating sites don't charge female members anything to join. Furthermore, men only pay around $20 a month to use the site.
For that level of income a site generates, you have to have your head in the clouds if you think that kind of money allows the site to screen all the members and weed out 100% of scammers.
And if you trust anyone you've just met through a free dating site, well you're an idiot quite frankly.
For what it's worth, I've been approached by scammers on many Asian dating sites. The best way to avoid them? Use an introduction agency. These agencies cost 10-20 times as much as an annual dating site subscription would cost, but they can actually work out cheaper in the long run.
By the way, if you've got any spare time at this stage, then I would strongly recommend you read a lot of books about Thailand, and try to learn a little bit of the language. Both reading and language learning will benefit you in the future – not least because you'll be able to impress the pants off Thai women you later meet (sometimes literally!).
Shortlist Some Thai Women
Whether you use an introduction agency or a dating site, your aim is to shortlist 3-4 women who you think are marriage material.
My top tip here is to make sure you shortlist women who in a town or city you want to visit.
Don't shortlist one woman from Bangkok, and another one from Chiang Mai!
If you're using a dating site like Thai Love Links, you can set the location that you're interested in through the My Matches facility. Then make sure you delete emails and interests from any women who don't live in this location. This is a ruthless policy, but it is extremely effective and it has worked for me on several occasions.
Handling Your Shortlisted Women
If you're doing your Thai online dating from the USA or Canada or somewhere else that means you can't physically meet the women you're talking to, then I'd strongly recommend you don't fall in love with anyone at this stage. By all means have a favourite girl – I've always had a strong favourite when I've been drawing up my own shortlist.
Also make sure you don't get into the business of sending gifts to women you haven't met. Save gifts for when you eventually meet them in person. I'm speaking from experience here when I say that gift giving men attract gold digger women.
So that covers physical gifts. Just make sure you don't make false and empty promises to any women you chat to either. Don't promise that you'll get engaged/married/whatever on your first visit.
Also bear in mind that women find it quite easy to find out you're talking to several women. If they ask it's better to be open that you want to make up your mind once you meet them in person. Don't talk to one woman about another woman though. I blew one relationship because of this.
Visiting Thailand
Your ultimate aim is to visit your list of shortlisted women. Plan to stay in Thailand for at least two weeks. If you can spare the time away, it's better to stay for longer than this.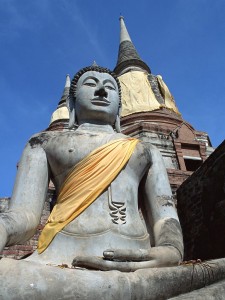 Really you need to visit women 2-3 months after you first make contact with them. Too soon and you've not had chance to weed out the gold diggers, scammers or lazy women. But leave it too long, and the women you've been chatting to will really begin to think that you're just not serious about them.
I'll point out here that Thai women will never commit to a man they've never met. So don't invest your emotions in a woman you've never even met.
While in Thailand you should arrange a short first date, a meal in a local restaurant is ideal for this. Asian women make up their minds very quickly about a man – much faster than Western women will. As for men, well we usually know in about 10 seconds whether we find a woman attractive!
It's best not to try anything on with a Thai woman on a first date. Be a gentleman!
You need to carefully observe your date. If she touches you or starts feeding you then these are really good signs that she genuinely likes her. Of course if you're experienced with women then you'll know the other little signs to look for.
Many Asian women will make the first move. It usually depends on their age and previous relationship history.
It's been the experience of many men who seek Asian brides that previously unmarried girls can be very apprehensive about relationships. By contrast, if you go to meet a sex-starved divorced single mom, then she'll probably jump you on the first or second date!
Post-Thailand
Coming home from the Land of Smiles can be a real anti-climax. If you've met the girl of your dreams, then it's a very good idea to return home and do some thinking.
If after 2-3 months you feel the same way about her, then return to Thailand and visit her again.
If the trip ended in catastrophe (and trust me – I've been here!), then return home and regroup. It's often a good idea to take a break for a few months – especially if a relationship ended badly. For this reason I don't tend to make more than three women-meeting trips a year to Asia, as it's too stressful on the emotions.
Asian women are often desperate to get married, and as a Western guy you're a huge catch! So don't be swayed too much by what they tell you. If the relationship doesn't feel right, then it isn't right.
And if you have to ask yourself whether you love somebody, then you probably don't.
Engagement and Marriage
If you've found The One, then it's a question of getting engaged or getting married.
If you get engaged then you can get your prospective bride over to your country on a Fiancé Visa. The rules depend on which country you're living in. Generally speaking a fiancé visa is valid for 6 months.
The Fiancé visa is a good opportunity to get your bride over on your home territory. Then you can very easily determine if she's good wife material. Many Asian women have agendas, and only the most determined can put up a false facade for six months or more.
After that comes marriage. Whether you get married in Thailand or your own country is up to you. Often couples get married in both countries – this pleases both families.
I guess I don't need to tell you that you need to make sure you cover yourself in the event of a divorce. I'd strongly recommend a prenup, and if you have a lot of assets it can be a good idea to avoid getting married in your own country (at least for the first year or so of being a couple). Thousands of men have been left destitute by their new Thai or Filipino brides – don't be another sorry statistic.
So that's the process I've been using in my search for an Asian bride. It seems to work pretty well, although I will point out that it could take you a lot longer to find a Thai bride than you initially thought it would.
If you've got any more tips about finding a Thai bride, then leave your comments below.