Welcome to Thai Brides. On this site you'll find loads of useful information about visiting and living in Thailand as well as meeting and dating Thai girls.
If you want to find a Thai bride then I highly recommend Thai Cupid. I averaged one date a week while I was using it when I lived in Bangkok. Sign up and check them out!

Got any questions about Thailand or Thai dating? Leave a comment below and I'll do my best to answer you.
One of the main issues when choosing a Thai bride is how young you want your new bride to be.
So how young could you go as far as Thai dating is concerned?
Here are some thoughts on age difference in relationships between Western men and Asian women.
Age Difference in Relationships
There's a very old saying that applies very well to most relationships:
A man should halve his age plus add seven years. This is the age of the youngest girl he should marry.
I've personally found this saying has worked very well for me.
When I was 39 I went on dates with a few Asian girls. The formula above reckoned I shouldn't date any girl younger than 26. Well it turned out that the 25 year old I dated seemed just a little too young for me. By contrast, the 28 year old was just right!
What I will say though is that I have found Asian women to be much more mature than Western women. And so many guys I've talked to have said exactly the same thing.
It's worth pointing out that dating younger Thai girls is not without problems. Scammers are a particular issue. If you want to meet a much younger girl through an online dating site then you'll be a prime target for scammers. I talked to one 50 year old guy who reckoned that 90% of the Asian girls he'd chatted to online were scammers!
I've also noticed that many websites play up the whole thing about Asian women preferring older men. Sure, the girls I've dated have all told me they want to marry a man who is older than they are.
I've only ever met one Asian cougar woman who has clearly had a thing for younger men.
On the other hand, I've not met many girls who prefer much to date much older men. Sure, a 24 year old Thai girl might date a 54 year old man. But if a 44 year old man comes along then she'll usually prefer to date him instead.
Age Difference and Babies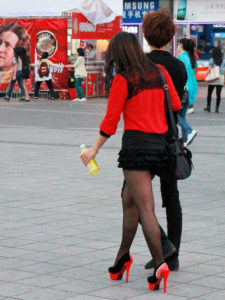 As men we're pretty darned lucky in that we can have babies at pretty much any age. It's not unheard of for men to become dads in their 70's or even 80's.
Of course the main issues here are finding a girl who will want to become your lover at this age, and whether your equipment still works.
But assuming you can find a girl, and you really want to raise some cute mixed babies, then the younger the girl the better really.
My own mom gave birth to my brother when she was 34, and she was sick for pretty much the entire 9 months of the pregnancy. Medical science has advanced tremendously, but pregnancy is still a huge strain on a woman's body.
It's also worth remembering that although Asian countries have experienced huge economic growth, giving birth in Thailand, China or the Philippines is still much more risky than it is in countries like the USA, UK or Japan. And this risk grows with a woman's age.
If you're an older guy planning on raising a family then it's normally best to stick to dating Thai women in the 25-34 age range.
Just beware of dating 30 something women, especially if they're previously unmarried and still want to start a family. I started off dating Asian women in the 32-38 age range and I found them very picky. Often these women are single for a reason.
Age Difference and Thai Girlfriends
Obviously we're only talking about a suitable age difference if you're intending to marry your Thai girlfriend.
If you just want a Thai girlfriend and you're not so fussed about the marriage thing, then you can pretty much date any Thai girl who will put up with you.
Just make sure you're honest to her about your intentions. Many Thai women are very marriage minded, so it's not really fair on her to string her along if you have no intention of ever marrying her.
Generally speaking though, it's easier to have a much younger Thai girlfriend if you're going to live in Thailand, or at least spend an extended amount of time there. Old Western guys with young Asian girls on their arms are a common sight in Thailand, so you'll not be noticed as much as you would at home.
So those are some ideas regarding age difference in relationships with Thai women. Really the age range you look at is entirely up to you, and don't worry what anybody else thinks about your choice of partner.