Welcome to Thai Brides. On this site you'll find loads of useful information about visiting and living in Thailand as well as meeting and dating ladyboys.
If you want to chat to ladyboys online then I highly recommend MyLadyboyDate. It's run by a friend of mine who has a super hot ladyboy girlfriend. Last time I looked there were 14,000 ladyboys with profiles on the site. Sign up and check them out!

Got any questions about Thailand or ladyboy dating? Leave a comment below and I'll do my best to answer you.
Thai Dating Sites can be a cheap way of finding Thai women to meet. However, dating sites are often the virtual equivalent of bars. You never quite know about the background of the women you're meeting.
In some cases your new Thai girlfriend could even turn out to be a ladyboy!
I've been lucky in that all the women I've arranged to meet through Asian dating websites have actually turned up for our dates. But I've lost count of how many women I've screened out before the first date stage. I've had to deal with scammers, gold diggers and even the occasional hooker. Take it from me, on dating sites it's frequently the hookers who are the most honest women!
So if you want a better Thai dating experience then introduction agencies might be what you're looking for.
Here's a list of Thai marriage agencies, plus my own experiences of using such an agency.
Finally you can watch the popular Louis Theroux TV shows where he visits a Thai marriage agency in Bangkok.
Thai Introduction Agencies
The agencies I know about are:
Thai Silk
Thai Silk appears to be a more recent entrant into the Thai introduction agency arena. Their website is arguably the best looking of any of these three introduction agencies.
The company is run from the UK and Bangkok. The Bangkok office is centrally located and so all you need to do is to arrange a flight to Bangkok so you can start meeting their female members!
Thai Silk offer a range of matchmaking packages to suit any budget. You can see photos of many of their lady members on their website. All you need to do then is to arrange to visit their offices (in central Bangkok) and they'll arrange dates with 2-3 ladies you're interested in. You can visit more ladies if you like, but it is their (and my) experience that you'll often find that special somebody after meeting 2-3 ladies.
Thai Professional
Thai Professional was a long established marriage agency. It's also based in Bangkok, so their offices would have been convenient for you to visit on your trip to Thailand.
This agency claimed to have facilitated over 1100 marriages so your chances of finding a bride through their services are extremely good!
For their fee I reckon they were pretty good value, especially as they can help you with visa and marriage arrangements. They'll even pick you up at the airport and show you to your hotel.
This agency seems to have closed. If you have any information on them then leave a comment below.
Anglo Thai Introductions
As the name suggests, Anglo Thai is a UK/Thai based introduction agency. This could be a good agency to use if you've never travelled to Asia before, and want plenty of help in your search for a Thai bride.
I have some doubts about this agency, as the website hasn't been updated for a while. The website says it was last updated in 2008. If you're interested in this agency then make sure you email them to see if they're still in business.
Other Agencies
I would say that online dating sites like Thai Friendly and Thai Cupid have pretty much killed off old school introduction agencies. What a shame!
Dating sites aren't always as good as you might think. It takes a lot of time to wade through profiles. There's the hidden dangers of scammers, or already married women, or even ladyboys pretending to be ladies.
Finally there's the issue of dating sites themselves. They tend to encourage a woman's built-in need for hypergamy. If a woman spends too long on these sites then there's a risk she will never settle for just one man. There's always more guys to see every time she logs in. Ultimately it can ruin her, and I've seen it happen to many women over the years.
I did find a long list of Thai marriage agencies on Dave Rose's site here. Before you get too excited though I'll warn you that all of these sites listed on this page are no longer available except for Thai Silk (which I've already listed above).
My Introduction Agency Experience
I previously used an Asian introduction agency to help me find an Asian bride of my own.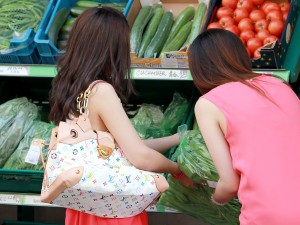 The agency was quite small, and there were around 100 female members. This wasn't a huge amount. However, they had been interviewed to weed out women who wouldn't have been unsuitable as Asian brides for American men. This showed in their highly coveted 0% divorce rate for the couples who had met through the agency and subsequently married.
I was really impressed with the quality of lady I met through the agency. If anything, the agency had been a little too strict on the female eligibility criteria for joining. Consequently I met some very classy ladies who were educated, had very good jobs and who spoke perfect English. Really I was in the realms of executive dating, and I times I felt a little out of my depth.
Sadly I didn't find love when I used this agency. However, I did meet some great women. At the end of the day, Asian dating is just a numbers game – the more women you actually meet, the greater your chances of finding that special lady.
I'd still recommend that men seeking Thai brides should seriously consider using a marriage agency. Take it from me – visiting Asia in search of a wife involves an incredibly steep learning curve, and a marriage agency can prove tremendously helpful in your search for your dream Thai bride.
Would you use a marriage agency, or do you think dating sites are better places to meet Thai girls? If you've had any experiences (good or bad) of Thai marriage agencies, or of Thai dating in general, then leave your comments below.